This update is freely available for current customers via the SkunkCrafts Updater or by downloading the full package from the store.
Set the C172 rudder trim tab
Among the other changes of this update, if you fly the C172 you'll find a nifty new feat.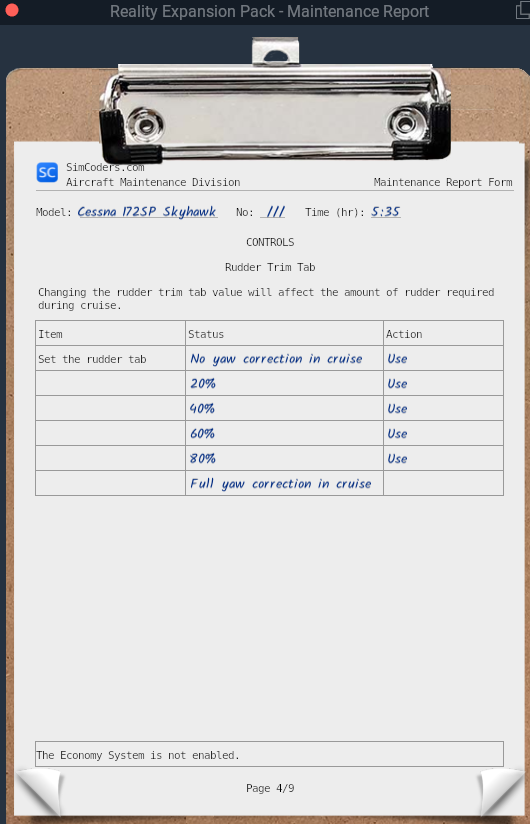 Over the years, we received feedback from the user about the improved P-Factor of the Cessna SkyHawk in X-Plane. Many of you fly a C172R/SP in real life and while some agreed on the P-Factor we added in cruise, others did not.
The different feedback we get from pilots is related to the different trim tab settings on the planes they fly. That is, some mechanics set the trim tab to keep the ball centered in cruise while others do not.
Now you can set your trim tab the way you like it. Just open the maintenance window and go to the CONTROLS tab, then choose the setting you like more.
Full Changelog
Improved the FSEconomy implementation reliability
C172 New: it is now possible to set the rudder trim tab in the maintenance window
C172 Fix: The avionics switch did not work properly anymore in VR
C172 Fix: the G1000 configuration was not always correctly detected
F33 Fix: improved drag curve at 8000ft
Improved manifold pressure algorithm
P28R: Improved the engine RPMs at low power
P28R & T: Improved the cruise pitch attitude
P28R & T: Improved the pitch trim time
Kodiak: Updated the base model to v2.2.1
SF.260: It is possible to choose the behavior of the Low Fuel lamp (military version only)
Update: Reality Expansion Pack v4.5.9