This is a major update of the Reality Expansion Pack, and guess what? It is free for all the current users and it works with all REPs airplanes (even those not on sale anymore).
To get this update you can either download your favourite REP planes from the store again or just use the SkunkCrafts Updater plugin as described here: https://www.simcoders.com/faqs/how-do-i-update-my-rep-using-the-skunkcrafts-updater-plugin/
This update brings new features to REP but the main one is the new Economy System.
What is the Economy System?
The Economy System is a way to make flying REP much more fun. It rewards your flight time and your landings with virtual dollars. The dollars are then stored in your REP's bank account.
You can spend your money for the fuel, the everyday maintenance of your aircraft or repair/replace the broken parts.
How does it work?
Beware that the Economy System is not active by default. Nonetheless, activating and using it is really easy. Just open the Maintenance Report and scroll to the latest page where you find the activation button.
Once activated, the Maintenance Report is resized and, together with the normal actions, you see their price and required time to completion.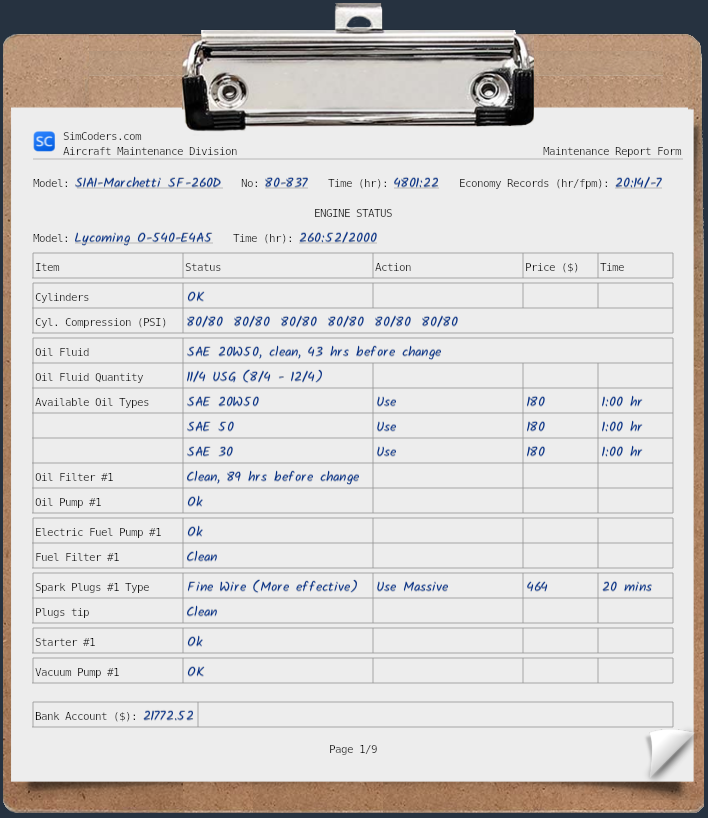 Click the "Action" cell to select the actions you want to be done on your aircraft. This will add them to the quotation.
Scroll to the latest page of the Maintenance Report to review the quotation and accept or decline it.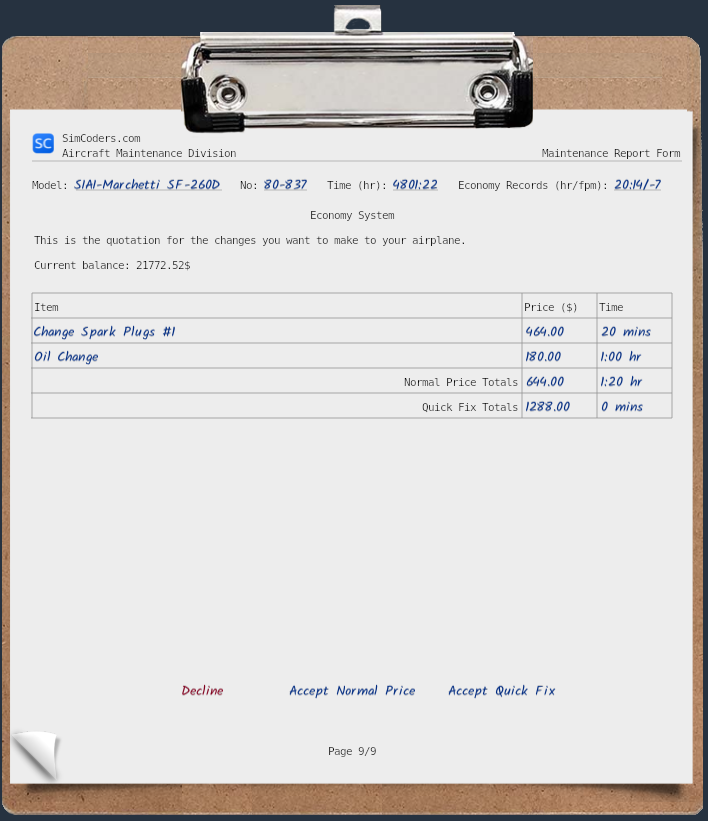 Each quotation provides two totals:
Normal Price: it will start the maintenance process and each maintenance task will take real-world time to be completed. You can close the sim (the mechanics will work while you're away) or just sit and wait until the work is done.
Quick Fix Price: this option costs more but it will do all the maintenance actions in an heartbeat.
Buy and sell fuel
The Economy System manages fuel as well. Every time you add fuel using the Mass and Balance window, a certain amount of money is drained from your bank account.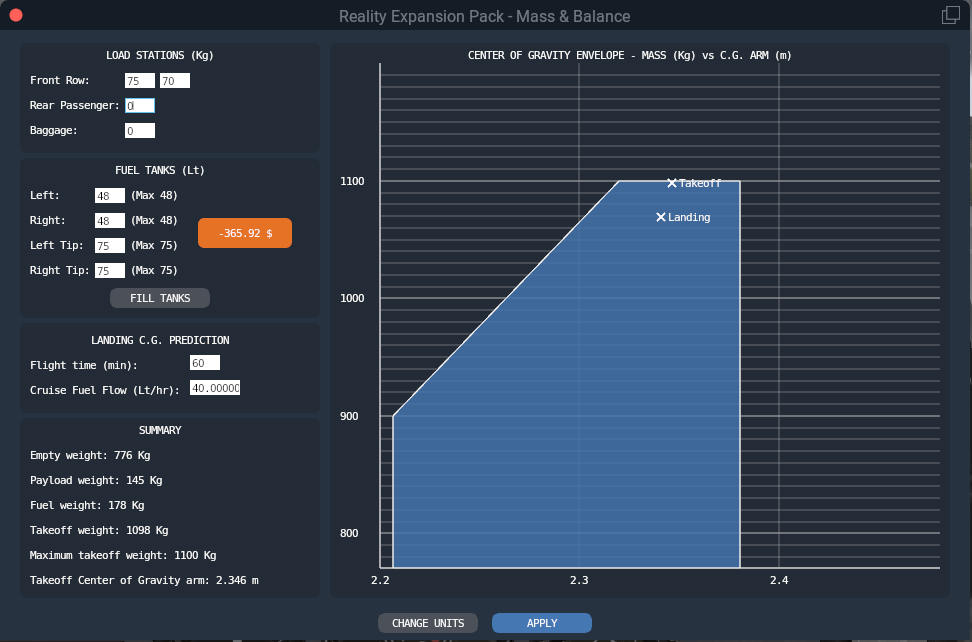 The fuel price is different from airport to airport and from country to country. It is possible to check it using the airport's ICAO code thanks to a dedicated "plugins" menu entry.

If you live in eastern Italy, you will find it useful to refuel in Croatia! 🙂
If you need to unload fuel to make more room for passengers, the local airport will buy it at a slightly lower price than the sale one. Therefore, be sure to plan your fuel ahead to not loose money!
More than that
The Economy System offers a lot of insides. You find them all in the user manual of your favourite REP airplane.
For example, the bank account is shared among all REP airplanes. That is, you can fly with an airplane to raise the funds to fix/upgrade another. 🙂
Also, if you crash your plane and/or you go bankrupt, you can always reset the system and restart from scratch with a brand new airplane.
You can also disable the Economy System temporarily and fly with the same aircraft without corrupting your Economy System status/history because the Economy System state is saved as a separated file.
Is it compatible with FSEconomy or X-CPL-Pilot?
Yes! Since v4.1.0 you can connect your Economy System directly to FSEconomy. That is, the money from FSEconomy can be used inside our Economy System as well.
Same applies to X-CPL-Pilot starting from REP v4.5.6.
Reality Expansion Pack 4 – Economy System is here!