A new public beta is available via the SkunkCrafts Updater.
This new version mainly targets the Piper Super Cub, improving the plane handling and adding a new 150HP version with smaller tundra wheels.
EDIT: This new version introduces experimental support of the experimental flight model for the Super Cub only. This does not mean that you have to enable the Experimental Flight Model if you use the Super Cub. REP just tries to give you the correct flight dynamics if you decide to use it.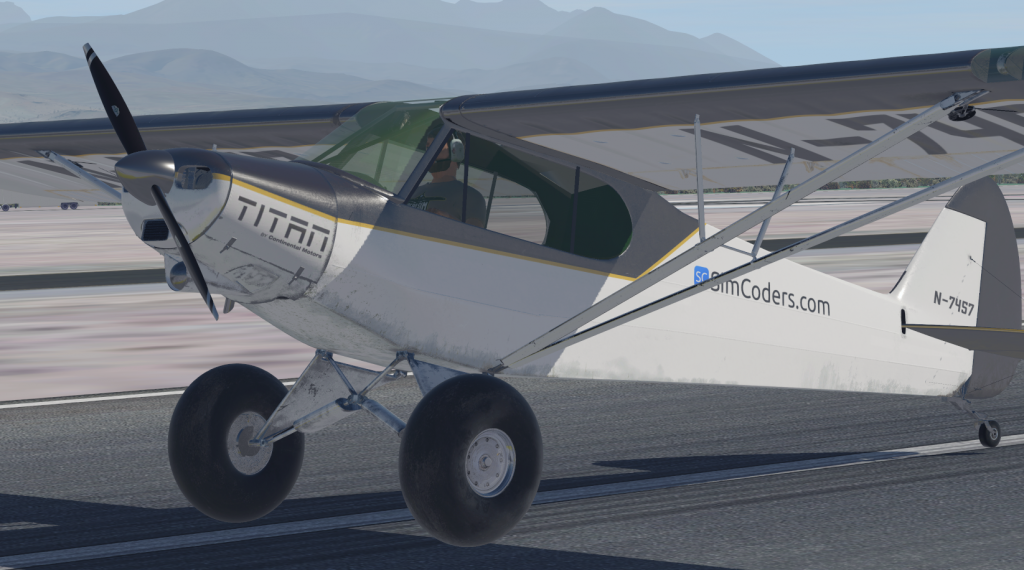 By the way, this version affects the other planes as well by fixing small bugs and improving aspects of the Reality Expansion Pack such the flight dynamics.
This is a public beta version. That is, you can use it but beware of possible bugs. If you find a bug, feel free to report it to the X-Plane.org forum here.
Changelog
PA-18: New 150HP version with smaller tundra wheels
PA-18: The indicated fuel level depends on the aircraft pitch giving a meaning to the "Three points attitude" and "Level flight" scales on the fuel quantity indicators
PA-18: Improved flight dynamics to experimentally support…X-Plane's Experimental Flight Model
PA-18: Introduced the Engine Monitor
PA-18: More realistic empty weight
PA-18 Fix: the oil pressure and temperature indicators did not work as expected
PA-18 Fix: the position of the magnetos switch was not saved between sessions
PA-18 Fix: the fuel selector position was not saved between sessions
PA-18 Fix: the 180HP version did not map the mixture axis to the proper dataref
PA-18 Fix: adding the cargo pod did not add extra empty weight
PA-18 Fix: both the fuel quantity indicators reported the right-tank fuel quantity
C172: Added the engine monitor
C172: Improved the power curve in the 1500-2000 RPM range
C172: The prop P-Factor has been improved
C172 Fix: the elevator authority was excessive during the ground roll at very low speed
C172 Fix: a change in XP11.35+ made the steering system unusable
C172 Fix: improved the stall horn behavior on 11.35+
C172 Fix: improved the stall behavior on 11.40+
Carenado B58 XP10: Improved the flaps pitch moment
PC-12: Introduced the Pilot Emergency O2 System
PC-12: Improved ITT evolution on plane loading (the ITT is restored from the previous flight, taking into accout the elapsed time)
Engine Monitor shows CHT and Oil Temperature
Fix: The preheater did not work properly
Fix: The Economy System status could be loaded only partially in some situations
Public Beta: REP v4.3.0b2