The Reality Expansion Pack was born with flight training in mind. After releasing the package for the Cessna 172, tons of new users decided to use REP for their own PC based training.
Introducing Tim Post, aka UncertifiedPilot
Among others, Tim shared his experience with us. He provided great feedback while testing REP for the Cessna 172 and he is now our partner in spreading the word of aviation training with X-Plane.
Here is his story.
Hi Tim, welcome to Simcoders. Could you tell us a bit about your mission and story?
Hi, Claudio. Absolutely, it's my pleasure to be here.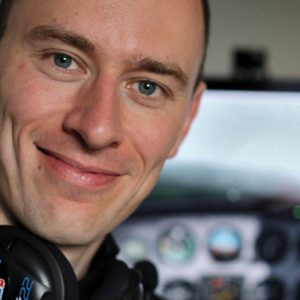 I believe we all long to be student pilots. That is why I love to demonstrate the thrill and opportunity of home flight simulation to develop real-world flight skills. I do so by live streaming my own VFR and IFR flight simulator training to Twitch. I call myself the UncertifiedPilot.
My story began about two years ago. I learned that home flight simulation software had greatly evolved since the last time I used it. Airplanes had become more realistic, weather engines had become more complex, and live ATC had become available. To me, home flight simulation had matured and was calling me back. This time, for keeps.
As a teenager, I always dreamt about flying my own little Skyhawk someday, across challenging weather and scenic landscapes, while sounding like a pro on the radios. Given the opportunity that modern-day flight simulation now offered for flight training, I decided to teach myself to become the best Instrument Rated simpilot I could be.
I built myself a home flight simulator cockpit on the basis of a Cessna Skyhawk 172 model, bought myself a new high-end computer with flight controls, installed the most advanced flight simulator software I could get my hands on, and started practicing real-world VFR and IFR flight procedures by King Schools, Sporty's and AOPA.
In addition, I decided to live stream my every training flight to Twitch, hoping to find same-spirited simpilots who would perhaps be willing to help me advance my training. I found them. And they began to help me.
What started as a cute project, surprisingly, grew into a popular VFR and IFR video training series that today attracts simpilots and real-world pilots from around the world. I recently completed my VFR flight training, I taught my girlfriend to fly and have since began my Instrument Rating training.
I'm having a blast and have set my sights on earning my Private Pilot License in the near future.
We too have been watching your flight training episodes since the beginning. We love your character and your excitement about flight simulator training. Just to be clear to our readers who do not yet know about Twitch, what is it about?
Twitch is a website where you can watch others play video games, live, and for free. Anyone with a decent internet connection can stream to Twitch.
And because you are watching live video feeds, you can chat with these 'streamers' while they play their favorite games and you can chat with others who watch the stream with you. In a way, Twitch offers live television on the web, but tailored specifically around video gaming and online community building.
What value does Twitch bring to the flight simulation community?
In recent years, simpilots too have started to stream their flights to Twitch. Some simpilots have attracted thousands of followers who have come to enjoy watching their flights every time they go live.
New online communities of simpilots arise at Twitch that subscribe to their favorite simpilots and come to learn about the joy of home flight simulation through watching their live streams. Many viewers buddy-up and fly together. Or feel inspired to start to stream their own flights to Twitch too.
In my view, Twitch is the next big thing in the world of flight simulation. We seem to be getting less interested in merely reading about flight simulation on the forums and more interested in meeting the simpilots who bring life to their flight simulation practice. The hobby is getting more social. Very exciting times, I think.
What distinguishes you from other simpilots?
Well, opposed to most, I don't fly to impress my viewers with my understanding and skills of flight. Rather, I fly to inspire my viewers about the excitement of not knowing how to fly yet. To show the joy of challenging oneself to fly better each day, to find inspiration from failing at times, and to find gratification in taking time to carefully master the many aspects of flying. It's being an uncertified, student pilot that fuels me to fly.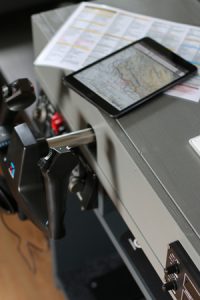 I have little interest in flying big airliners that basically fly themselves on autopilot for hours on end. At Twitch, and I think in the flight simulation community at large too, I perceive most simpilots to be autopilot programmers first and aviators second. Most times at Twitch you will only find static Airbus or Boeing cockpit feeds where actually little flying is happening. Also, very little learning. Yet, some of these simpilots manage to attract hundreds of live viewers.
Instead, I love flying a rusty Skyhawk, by hand and by the book, and always in purpose of challenging myself to learn something new. To improve my flying and to expand my intellectual horizons as a result of it. To me, the thrill of flight simulation is not so much about 'flying a plane' but rather about learning to fly a plane. Flying VFR with steam gauges, around crowded Charlie and Delta class airspace, with live ATC, is most gratifying and challenging to me.
So no matter what time you jump aboard one of my live streams, I'm always learning. It's exciting to me to see what power my growth mindset has in sparking others to learn to fly as well. I feel grateful to be able to give back to our community this way.
We are very proud to have you as a partner. From your perspective, what added value does Simcoders bring to your journey as a simpilot?
I'm a student pilot. That means that I'm all about the excitement of learning to fly. The Reality Expansion Pack by Simcoders is made for us student pilots. It provides me with ever more opportunity to master and enjoy the intricate skills of flying small GA aircraft. You have brought my Skyhawk to life.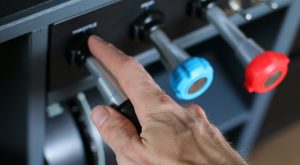 It excites me to see Simcoders enabling flight simulator training this way. That is why I feel as proud to team-up with Simcoders and together promote the thrill and opportunity of modern-day home flight simulation to develop real-world flight skills.
---
Thank you, Tim, for sharing your experience with us and our readers. We're all supporting you in your amazing adventure in the virtual skies of X-Plane!
Training pilots together with UncertifiedPilot