After months of work, the Reality Expansion Pack for X-Plane 12 Piper Super Cub is here!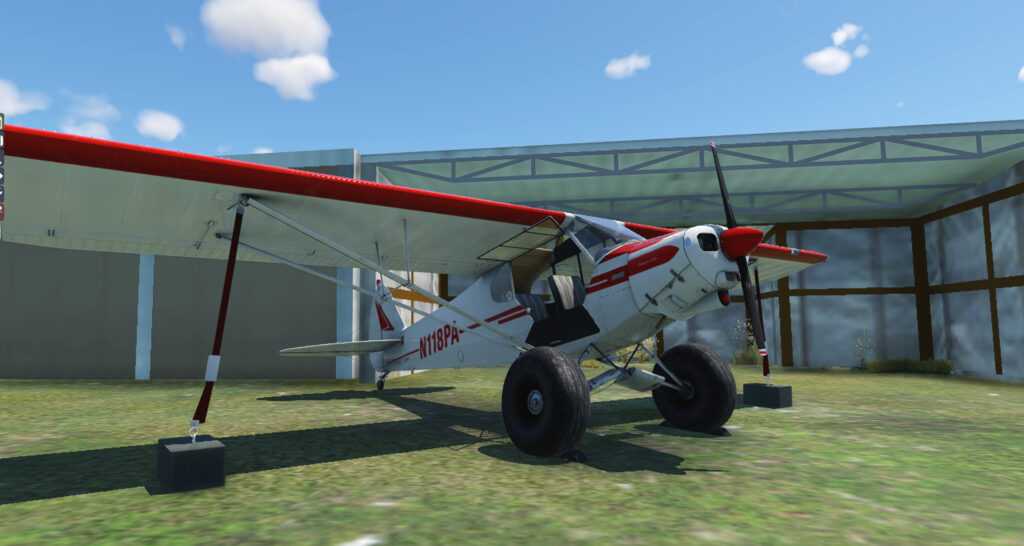 As usual, this Reality Expansion Pack is available on the X-Plane.org store at the price of 19.99$ and is compatible with the existing free Super Cub mod by taildragging68
Highlights
Custom airfoils
Custom USA35B airfoils have been used to properly model the Super Cub flight characteristics.
The use of custom airfoils make it possible to get the correct stall and slow speed behaviors of the Super Cub as well as the correct cruise pitch and speed parameters.
Custom tailwheel steering
Steering a real Super Cub on the ground is not easy and it requires all your attention to avoid a messy ground-loop. Now the same goes for X-Plane: a custom model for the tailwheel steering makes it so real that you will fight to keep the plane straight while running for takeoff!
Lycoming O-320 Engine
Just like the other pistons REPs, this plane features a highly complex engine model. It goes much deeper that the default X-Plane model. The REP engine is totally custom and replaces the default. Using our custom C++ code in place of Laminar's lets us take full control of the engine behavior, adding features like:
Precise power curve matching real world data
Realistic power lever control: it automatically controls both RPM and Manifold Pressure
Customized fuel system and fuel filter
Realistic Oil System
Interchageable oil type, affecting oil temperature and pressure
Spark plugs fouling
Interchangeable spark plugs type
Custom carburettor system simulation
Custom system failures
Realistic startup procedures
Automatic startup option for a quick start
Maintenance Report
It shows the status of all the airplane systems, from the engines, to the landing gear and tires. Using the report, you can fix, pimp or replace the systems that need maintenance.
The maintenance module goes in depth inside each system. Reading the user manual is really important. About the manual, you find it here if you want to get a glimpse of the plane.
Economy System
If you want a more realistic experience, you can enable REP's custom economy system. It rewards you with virtual money after each flight. You can use the virtual money to repair the plane and buy fuel at realistic prices around the world.
You can even couple the Economy System with FSEconomy of X-CPL-Pilot!
And there's a lot more!
Check out the product page to see a comprehensive list of features. They go from the VR support, to the interactive pre/post flight checks, the custom towing system and more.
The Reality Expansion Pack for the Super Cub is here, again!