The Reality Expansion Pack v2.0 is now out and available in the various X-Plane stores (X-Plane.org, SimMarket, Aerosoft and FlightSim.com).
If you already own REP v1.0 for the C210, just go pick up v2.0 for free!
This new package is compatible with the new version 3.1 of the C210 from Carenado.
More failures and damages
The new version comes with a new set of features.
First of all we made the damages system more complex (so more realistic). The new damages/failures target the engine, the landing gear, the avionics and a bunch of other secondary systems. Together you will get a new set of in-flight tips, so you will discover the new feature literally on-the-fly.
Improved engine behavior
The engine behavior is improved, especially on startup. The spoolup is more realistic, as well as the priming dynamics.
I think that the most interesting change is about oversquare operations. With a turbo engine is ok to have a MAP higher that RPM/100 but do not take too much advantage of that or you will damage the engine. The in-flight tips will help you to take care of this.
Walkaround and towing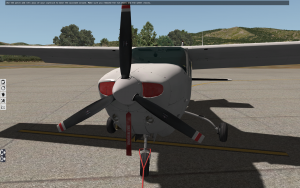 The new cool features we added with this new version are the walkaround and the towing. You can do the ground checks and tow your airplane around before and after the flight.
The actions you do during the walkaround will influence the rest of the flight. If you don't remove the pitot cover, the airspeed indicator won't work. If you don't remove the chocks or the tie-downs, the airplane won't move.
Take a look to this video:
Menu and kneeboard
Now there's an easy menu that you can use to access the kneeboard, the towing etc.
It's a simple thing but it comes very handy.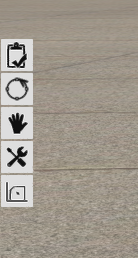 The kneeboard now contains the takeoff and the landing performance too, so you are able to plan your short field operations more carefully.
Half a ton of fixes and minor changes
We also made a ton of fixes, extended the hardware compatibility, improved the connection between HeadShake and REP
Hey, you promised the Bonanza too!
Yes! The Bo is coming in very fast. We'll wait few days to make sure that REP 2.0 is stable and then the F33 will be released to the market. The beta testers have flown it for weeks now and it just needs some minor refinements.
So, blue skies to you all with REP 2.0!
REP v2.0 is now out for the C210. The Bo is turning final!