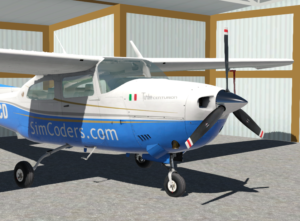 We worked on this update for a few weeks while we received feedbacks from you guys.
The Reality Expansion Pack is now better than ever.
The update is free for all the current users and is available at the X-Plane.org store. Just download the package again to get the latest available version.
The update is available for the older packages too, such the Cessna 210 and the Beech B58 Baron for X-Plane 10.
Changelog
Improved multimonitor support: REP 3.4 uses the new SDK 3.0 and with v3.4.3 the multimonitor support works much better than before.
Fixed windows in XP10: under X-Plane 10 some windows were not rendered correctly after upgrading to the new SDK.
Improved Mac OS compatibility: Since v11.20, X-Plane requires plugins to use different libraries than before. We upgraded REP accordingly. If you don't see any change in REP, we did a good job!
Engines improvements: there are some fixes here and there.
The oil pressure dynamics are more precise and so is the engine torque at shutdown.
The spark plugs are now fouling with a new logic and their behavior is less annoying than before.
The Baron propellers did not feather correctly in some occasions. Now they do.
More menu entries: REP's plugins menu now contains new entries that do the same things that you can do with the sidebar menu icons. We received this request from many users using more than one screen. We heard you guys.
Mouse gestures are gone: Since REP 1.0, many users did not understand how to use the mouse gestures to open the kneeboard. We received many complaints during the years. In the end we decided to remove them.
Minor fixes:
With the new C210 for XP11 you can now manage REP's static elements using Carenado's settings panel.
The Kneeboard keyboard commands are back to stay
What are you waiting for? Just grab your update! 🙂
PS: REP for the new Carenado F33A Bonanza for X-Plane 11 is on its way. It's a matter of very few days!
Reality Expansion Pack 3.4.3 now ready