In my last post I've promised some screenshots of the user interface that REP provides to you to manage your aircraft.
With the Reality Expansion Pack you can manage your aircraft's systems in the "Hangar" window.
The screenshots that I've attached are those of the working UI that we are already using. Keep in mind that there are still a lot of things that we want to improve (and more tabs that we will add, such the one related to the Oxygen System).
These screenshot are related to the Hangar window only. More pictures of the other windows will come in the next weeks.
So, here the images.
Engine user interface
In the "Engine" tab you can check the status of each cylinder and fix them id necessary. You can also check your oil and change it when necessary. At the bottom, you can check the starter status.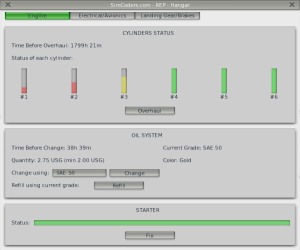 Electrical/Avionics user interface
In this tab you can check the status of the battery and fix the avionics (which may be broken if it was already turned on when you started or shutted down the engine). Unchecking the little checkbox will disconnect the battery to avoid a self discharge when the plane is not flown for a while.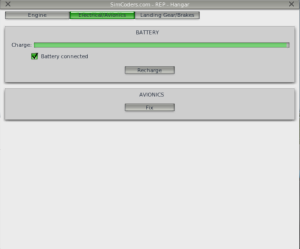 Landing Gear user interface
Here you can check and fix your landing gear mechanics, the brakes status and the tires damages.
A bad landing may results in a damaged landing gear as much as a prolonged braking may overheat the brakes.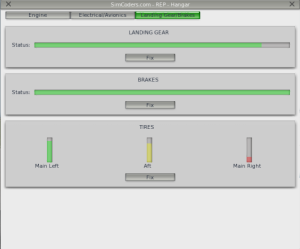 I think that the next week I'll be able to post something more.
Stay tuned!
PS: Some user complained that the XP user interface is ugly.
I agree with you that the default XP interface isn't something you would call "beautiful".
We decided, anyway, to use it mainly for two reasons:
It is consistent: It works using the same flow of the sim interface
It may be replaced easily with some custom graphics: we can easily update our code to replace the default X-Plane style with something else if it's needed. If you look closely, you will see that we have already replaced the progress bars.